Helping Single Parents/Caretakers
10 Women of Hope, Inc. helps single
parents and caretakers in Cobb County, Georgia who are experiencing a financial crisis.
10 Women Of Hope's Mission
The mission of "10 Women of Hope" is to provide one-time financial support to stable, single-parent families in Cobb County who are experiencing a critical need.


The vision of "10 Women of Hope" is to impact a family's life by providing financial support during a critical period that results in a positive outcome.
WE ONLY WORK WITH PARTNERS AND DO NOT TAKE SELF REFERRALS.
An endowed $1,000 scholarship opportunity sponsored by the 10 Women of Hope will be awarded annually and is now available for single-parent students at Chattahoochee Tech. The Chattahoochee Tech Foundation is a nonprofit 501(c)(3) organization that supports the college by working diligently to help make higher education an affordable reality for students at Chattahoochee Technical College.

Our 2018 Girls' Night Out  was very successful and we appreciate everyone who attended, donated and supported our event. We appreciate our amazing vendors and volunteers and look forward to another successful Girls Night Out next year!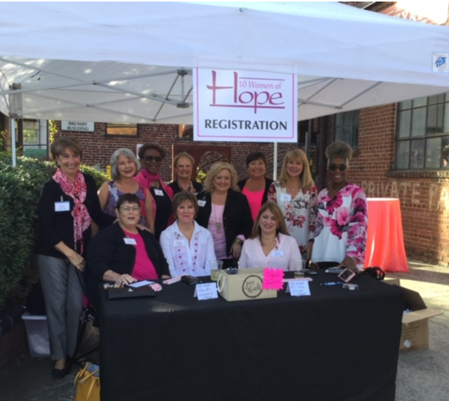 10 Women Of Hope needs your donations. If you'd like to help, please click the Donate Today button to make your tax exempt donation today.
Learn About 10 Women of Hope
Welcome Our 2 Newest 10 Women of Hope Partners
Welcome Teresa Hunter Jones
We welcome "Teresa Hunter Jones" as our newest member to the 10 Women of Hope. Teresa is the owner of "Gurl Friday Services". Teresa is married and has two children and resides in Kennesaw, Ga. We welcome Fran Sutton back!  Fran is a charter member and is returning as an active board member after being on emeritus status for a short tome.
Thank you Marietta Business Association & Habitat for Humanity!
On March 23, 2018, Charter Bank located on Dallas Highway in Marietta, Ga. hosted an event and invited the 10 Women of Hope and several other local charities to be available to distribute brochures, accept charitable donations and answer any questions staff or customers may have about their organizations.  It was a wonderful event and we appreciate Charter Bank and their generosity in giving back to the community.
Cobb County Employees
Friendship Club

Cobb EMC Community
Foundation

Cobb County Sheriff's Office
Reserve Unit

Mt. Bethel UMC Children's
Consignment Sale

Charter Bank

American Family Insurance

Graphic Solutions Group